PCOTC Calendar of Events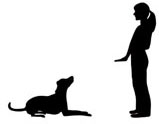 ---
Next Basic Obedience Training Class Starts on July 6, 2017
Download and Mail your
Application
to Reserve your Spot.
Third Session 2017
With AKC's addition of Scent work, and trials beginning this fall, PCOTC is pleased to be able to offer an intro to scent work class, taught by Beth Ann Sabo, in lieu of our 3rd session Advanced Class. The fee for the scent work class is $125.00. Limited to 8 teams (dog & handler).
Get ready for AKC Scent Work!
This class will start your dog on conditioned searches, the basis for all current search venues – AKC, UKC, NACSW and more. Your dog will develop focus, drive, independence and problem solving in this 5-week class – and it's FUN!!

5-week class starts
Thursday, July 13, 2017, 8-9PM

For more information or to register,
please email Beth Ann
Join the scent work fun!
July 6 - Basic Class 7:00 PM (please bring your dogs), No Advance Classes
July 13 - Basic Class 7:00 PM, Intro to Scent Work 8:00 PM
July 20 - Basic Class 7:00 PM, Intro to Scent Work 8:00 PM
July 27 - Basic Class 7:00 PM, Intro to Scent Work 8:00 PM
August 3 - Basic Class 7:00 PM, Intro to Scent Work 8:00 PM
August 10 - Basic Class 7:00 PM, Intro to Scent Work 8:00 PM
August 17 - Basic Class 7:00 PM, No Advance Classes
August 24 - Basic Class Graduation & Canine Good Citizen Testing 7:00 PM (No Advanced Class)
Fourth Session 2017
September 28 - Basic Class 7:00 PM (please bring your dogs), Advanced Class 8:00 PM
October 5 - Basic Class 7:00 PM, Advanced Class 8:00 PM
October 12 - Basic Class 7:00 PM, Advanced Class 8:00 PM
October 19 - Basic Class 7:00 PM, Advanced Class 8:00 PM
October 26 - Basic Class 7:00 PM, Advanced Class 8:00 PM
November 2 - Basic Class 7:00 PM, Advanced Class 8:00 PM
November 9 - Basic Class 7:00 PM, Advanced Class 8:00 PM
November 16 - Basic Class Graduation & Canine Good Citizen Testing (7:00 PM) (No Advanced Class)
Home | Club Officers | Training Info | Events Calendar | Photo Gallery | News and Brags | Obedience Trial | Temperament Test